Top Web Developer in India by Clutch
Provis Technologies named as a Top Web Developer in India by Clutch!
Everybody know that web design is a key element for a successful marketing strategy. It can set you apart from competitors and attract new users, who will be more engaged and spend more time on a clean, well-functioning site, rather than an out of date and clunky platform.
On top of that, a new site gives you a chance to reassert your brand and improve your SEO.
For nearly a decade, our team has created dynamic, aesthetically pleasing, efficient, and scalable solutions for our partners.
Recently, Clutch recognized our work and the impact it has made on our partners' businesses by naming Provis Technologies as a leading web developer in India!
We're thrilled to be selected for Clutch's exclusive list because we were assessed largely based on our client satisfaction.
Specializing in Laravel and WordPress Development, we've delivered quality solutions to our clients because of our firm understanding of development concepts. For this reason, Clutch has featured us as a 2020 leader in our industry in their latest press release and Provis Technologies was named as Top Web Developer in India.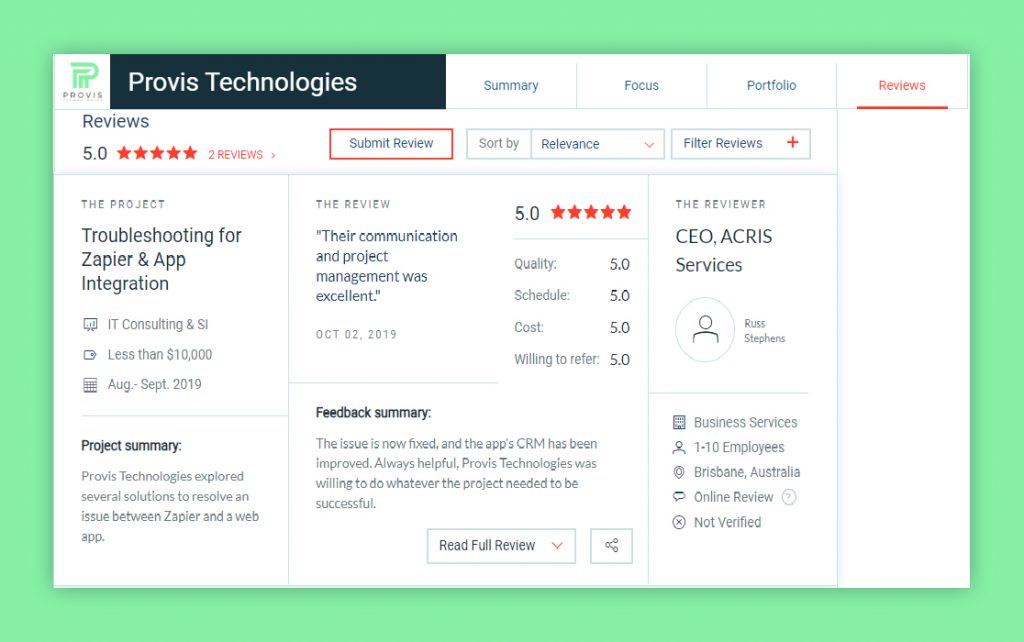 Clutch is a B2B ratings and reviews platform that compiles information on various B2B vendors by conducting interviews with verified clients. As a result, company leaders can feel confident that they're working with trustworthy and reliable agencies.
Clutch's team of analysts compared our team to thousands of other providers based on market presence, previous experience, and most importantly, customer satisfaction.
With a perfect five star rating on our company profile, we're thrilled to know that we've 100% delivered for our partners.
We're looking forward to another strong year of collaborating with our exceptional clients and building world class web and mobile applications!
Need help making your idea into a digital reality? Our team is here to help. Contact us online to discuss your company needs, and we'll come up with a tailored solution.