Provis Technologies received a 5-star review on Clutch
Provis Technologies continues to be the client's favorite Web & App Development Agency. Recently, we received a 5-star review on Clutch. At Provis Technologies, we help businesses reach their goals through robust, scalable, and performant digital solutions. We're a full-stack development agency that provides custom software development, e-commerce development, web development, and more. Combining the latest technologies with inventive processes, we deliver solutions that streamline operations and generate revenue. We are proficient in PHP, Django, Laravel, WordPress, Magento, Shopify, and many more. Further, our growing team of professional developers and designers are updated with the trends in the fast-growing market.
We recently received reviews on Clutch that demonstrate our expertise in IT development!
Clutch is the leading B2B reviews and ratings website. Headquartered in Washington, DC., they aim to connect businesses with the best agencies for their B2B needs. Their team of analysts collects clients' feedback, analyzes industry data, and compares competitors in the market to provide entrepreneurs and managers with the information they need.
The review came from a Hungary-based retail company that sells maintenance, repair, and operating supplies. They hired us to create an e-commerce website to showcase their 20,000 products to B2B and B2C customers. First, they gave us the site's design, which was provided by another vendor. We used that in developing a mobile-friendly website. We used HTML5 and JavaScript for the project.
The client was delighted with our work! We submitted our deliverables on time and within expectations. In addition, the client praised our flexibility despite the changes in scope and our speedy workflow. As such, due to the success of our project, the client gave us perfect five-star ratings across all metrics!
We also received a review from an employment platform in Canada. The client needed to integrate their platform to Hubspot so that they can analyze transactions, behaviors, and other factors. After finding us on Upwork, they got us on board to support their efforts. Three senior developers and one project manager were deployed for this project. We worked to integrate the entire data of their platform into Hubspot using GitLab, PHP, and Laravel.

The client was pleased with our partnership, as we finished the work two months before their deadline and implemented their required customizations. They praised us for our project management skills and use of the agile methodology. Additionally, they appreciated our streamlined communications. "We never have to talk to anybody else in the company other than the one person that managed everything," said the CTO of the employment platform.
That said, due to the success of our partnership, the client gave us a perfect overall rating of five stars!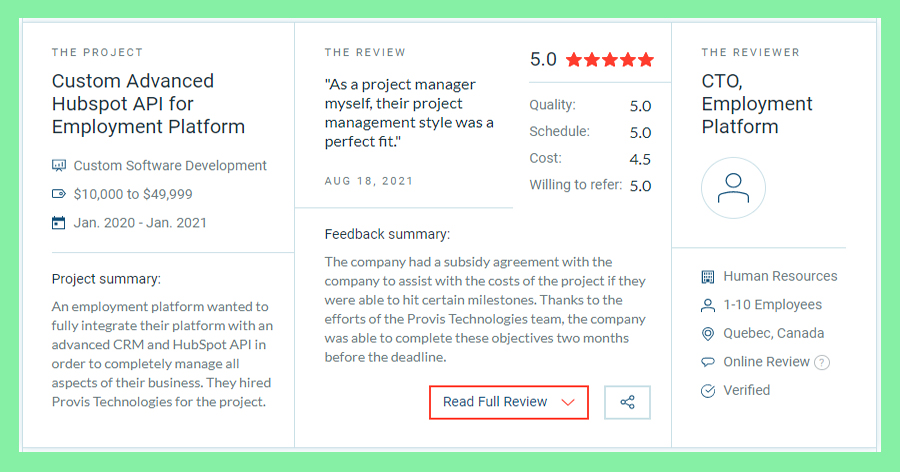 We're thrilled to announce that we can be found on the 2021 list on the Manifest as a Top Shopify Developer in Jaipur! The Manifest is a business news website that compiles and analyzes practical business wisdom for innovators, entrepreneurs, and business managers. Users can browse past projects of the agencies listed on the platform. We're proud to be featured as a leading agency on the Manifest!
We thank each and every one of our clients who took the time to give us a review. We appreciate their detailed and honest feedback about our work. Moreover, their positive review proves our expertise in IT development and our commitment to our clients. With this, we are motivated to continue improving our services!
Do you have any projects in mind? Contact us today, and let's discuss how we can work together to reach your goals!